Nutrition
At Scott Chiropractic Clinic, we understand how hard it is today to get all the nutrients we need.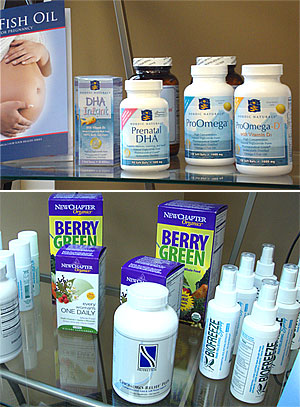 We know that, whenever possible, the human diet should consist of whole foods, that are nutrient-rich, organic,  and un-processed foods.  And that is not easy to accomplish — especially when feeding a family.
To help make sure your body gets what it needs, we offer nutritional consultation and professional grade nutrition supplements. We carry Nutrition Dynamics/Metagenics, Nordic Naturals, and New Chapter brands and keep multiple products in stock, including:
Multi-vitamins
PreNatal and PostNatal vitamins
Omega-3 Fish Oil
Vitamin D
MyoCalm
Prenatal and Infant DHA
Glucosamine/Chondroitin with MSM
We can also order many other products upon request.
Please see attached link for information about Supporting Attention and Focus in Children from Nordic Naturals:  Nordic Naturals News
Why Wellness at a Chiropractic Clinic?
Overall wellness is a combination of diet, exercise, and health maintenance to maximize the way we feel while living our lives.  Chiropractic care is the perfect complement to help you achieve overall wellness.  Even when your wellness journey feels like a long, hard road, it is also very rewarding.  Chiropractic adjustments can help with:
healing injuries
keeping and recovering your mobility through aging
everyday aches/pains that can make it hard to exercise
Make an Appointment and see what chiropractic care can do for you!